The ACMOS Global Balance
The global Acmos balance allows the body to recover its innate capacity for self-management, self-repair and self-healing. The Acmos Method, the only one exisitng, relying on quantum resonance principles, is the only technique able to identify the true origin of a health disorder. It allows our body to overcome the limitations of the human being to reach such a depth of information.
In September of 2010 Rene Naccachian became the first non-medical doctor to be presented with a gold medal at the French Senate House by the Societe D'Encouragement au Progress (French Society for the Encouragement of Progress).
"For the importance of your discoveries and their applications in the field of health, the S.E.P. is honored to congratulate you and to award you a gold medal". (Rene Naccachian Sept 2010 – Medaille d'Or)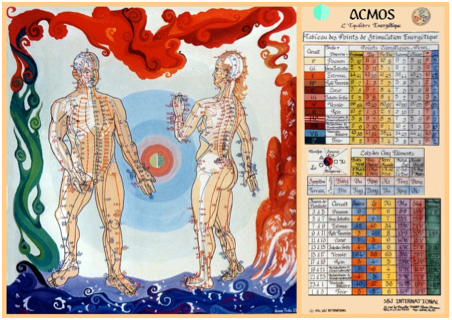 Salon ZEN 2017

The ACMOS Team
would be happy to welcome you at the
SALON ZEN
from tuesday september 28
to monday october 2, 2017
Vincent GASSIES

will give a lecture and a workshop practice:
"Becoming an ACMOS Bioenergeticien", on Friday 29 September at 19:00 & 'Discovery of the Acmos Lecher antenna" Saturday, September 30 at 17:00
Christophe CLARET

, will offer two animations, on the topic of
"The Feeling"
He will also lead workshops:
"Develop your feelings through the Acmos Lecher Antenna"
on Sunday, October 1 at 13:30 & Monday October 2 at 12:00
ACMOS Theme Seminars
Learn to communicate with the unique intelligence of each person's energy body to help them reset their own bio-electric circuits (meridians of Chinese medicine).
Training is very informal though we do have a lot of information to get through and practical skills to learn and practise. You will be challanged but also have fun (usually!) There are 4 modules taught in 2 blocks of 4 or 5 days and you will leave with enough skills to really get started practising on fam,ily and friends even after level 1 & 2. After a break of about 6 months for home study and practise we meet again for the level 3 & 4 and the Acmos examination. Case studies complete your training and we have a closed space online for each class to discuss or ask us questions.
Becoming an Acmos Bio-energetician
Who follows the ACMOS training course?
The training courses are for all : professionals involved with health, fitness, diet, and related matters but also those who are searching to better understand and learn about the circulation of their vital/chi energy or that of those close to them.
Note : it is not necessary to possess particular medical knowledge to attend the ACMOS Courses and training.
SBJ International is a Scientific & Research Center working on Bioenergetics, Created by René Naccachian since 1985, former creator of the Acmos Method of Global Energy Balance.
SBJ INTERNATIONAL is developing its activities in the the following areas :
Research and Development of the ACMOS Method
Consultations and Acmos Energy balance
Seminars in Bioenergetic and Naturopathy ACMOS
Establishment of ACMOS Centres in several locations all around the world
Development and diffusion of new products and ACMOS instruments