Phytotherapy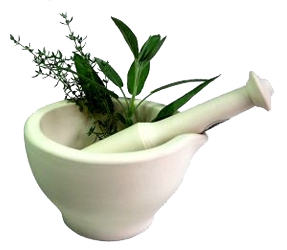 Phytotherapy is the study of the use of extracts of natural origin as medicines or health-promoting agents. Phytotherapy medicines differ from plant-derived medicines in standard pharmacology. Where standard pharmacology isolates an active compound from a given plant, phytotherapy aims to preserve the complexity of substances from a given plant with relatively less processing.
Phytotherapy is distinct from homeopathy and anthroposophic medicine, and avoids mixing plant and synthetic bioactive substances. Traditional phytotherapy is a synonym for herbalism and regarded as alternative medicine by much of Western medicine. Although the medicinal and biological effects of many plant constituents such as alkaloids (morphine, atropine etc.) have been proven through clinical studies, there is debate about the efficacy and the place of phytotherapy in medical therapies.
Fifty plants make up the range " Phyto " ACMOS . This range is in the form of vegetable capsules containing different plants selected powdered . These plants are designed to address the deficiencies of vitamins in the body, minerals and trace elements , to promote its self- management. A plant is , above all, a vitamin formula , minerals and other elements essential to the body . Some of these elements may be lacking in our daily nutrition.
Following the ACMOS technics, it is possible to identify the formulas or the missing plants. They will then be recommended to meet , during a given time , the body's needs . The ACMOS technic of dynamization or "Acmodynamisation" will places a print of the capsule of the ACMOS plant at the precise spot where the body requires it so that it can be disseminated usefully. Thus, the potentiation is maximized with minimum side effects on the way to the aimed organ.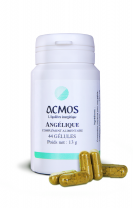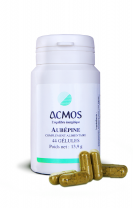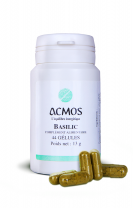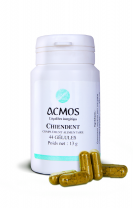 | | |
| --- | --- |
| BILBERRY | Caccinium Myrtillus |
| ANGELICA | Angelica Archangelica |
| ARTICHOKE | Cynara Scolymus |
| HAWTHORN | Crataegus Oxyacantha |
| BURDOCK | Arctium Majus |
| BASIL | Ocimum basilicum |
| BIRCH | Betula Ba |
| CARROT | Daucus Carota |
| CAROB | Caroubi |
| BLACK CURRANT | Ribes Nigum |
| COUCH GRASS | Agropyrum Repens |
| ELEUTHEROCOQUE | Eleutherococcus |
| ESCHOLTIZIA | Escholktzia Califormica |
| FENNEL | Foeniculum Dulce |
| FUCUS | Fucus Vesiculosus |
| FUMITORY | Fumaria Officinalis |
| GINGER | Zingiber Officinale |
| GINSENG | Panax Ginseng |
| WITCH HAREL | Hamamelis Virginia |
| HOP | Humulus Lupulus |
| ISPAGHUL | Plantago Ovata |
| BARM | Saccharomyces |
| HORSE CHESNUT | Hippocastanacées |
| MELISSA LEAVE | Melissa Officinalis |
| PEPPERMINT | Mentha Piperata |
| MILFOIL | Achillea Millefolium |
| OLIVE-TREE | Olea Europea |
| ORTHOSIPHON | Orthosiphon Stamineus |
| PASSIFLORA | Passiflora Incarnata |
| SAVAGE PANSY | Viola Tricolor |
| MOUSE EAR | Hieracium Pilosella |
| DANDELION | Taraxacum Dens Leonis |
| SHAVE-GRASS | Equiselum Arvense |
| ULMAIRE | Spiraea Ulmaria |
| SAGE | Salvia Officinalis |
| WHITE WILLOW | Salix Alba |
| SPIRULA | Spirulina Maxima |
| GREEN TEA | |
| VALERIANA | Valeriana Officinalis |
| RED VINE | Vitis Vinifera |